About Next Smile Australia Adelaide
If you're ready for the smile of your life, the team at Next Smile Australia Adelaide will help you do just that. With four lead surgeons who are also owners, the combined experience in our All-on-4® Super Clinic is unmatched in South Australia.
Dr Ian Bills, Dr Evan Jones, Dr Edward Pitts and Dr Nicholas Wood established their Super Clinic to pursue their keen interest in All-on-4® Dental Implants and restorative dentistry.
Next Smile Australia Adelaide is a dedicated All-on-4® surgical centre whose clinical staff and support team collaborate to deliver the clinically proven world-leading All-on-4® Malo protocol with a proven 98% success rate*.
The surgeons and their friendly team create outstanding patient experiences and aims to make every part of your journey as exceptional, safe and comfortable as it can be. Convenient on-site parking ensures your journey to and from our Super Clinic is a breeze.
Next Smile Australia Adelaide is supported by our trusted Accredited Partners in Whyalla to evaluate your situation and determine which treatment solution best suits you. So wherever you live in the great state of South Australia we have ensured you have convenient access to the outstanding results we have achieved for our patients.
Introducing Dr Ian Bills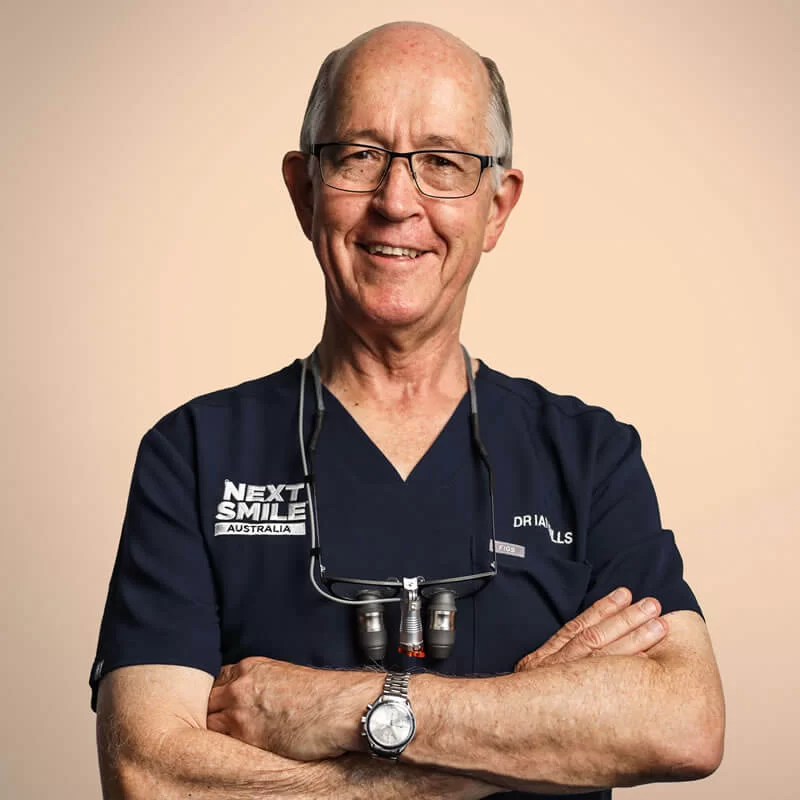 Dr Ian Bills graduated from the University of Adelaide with a BDS and began practicing general dentistry in 1977. He was motivated to seek more knowledge and was awarded Fellowship to the Royal Australasian College of Dental Surgeons in 1980.
Ian became interested in dental implants after attending a lecture by Dr Patrick Henry in 1985 and underwent training in the prosthetic and surgical aspects of the Branemark system. Professor Branemark being the inventor of the dental implants. Ian was involved in research and education as a Visiting Staff Member at the Branemark Centre in Perth until Dr Henry's retirement.
Ian has lectured and presented live dental implants procedures at Nobel Biocare events globally and here at home.
2003 saw several milestones as Ian became involved in the introduction of Guided Surgery to Australia, the same year he performed his first All-on-4® procedure. He underwent further training in the All-on-4® technique at the Malo Clinic in Portugal and continues to work on the technique to achieve exceptional success rates.
Over 46 years of dentistry, Ian has seen the benefits of All-on-4® in transforming patients' lives and is proud to offer the service at Next Smile Australia Adelaide, with a commitment to ongoing care through a meticulous maintenance and hygiene program.
Introducing Dr Edward Pitts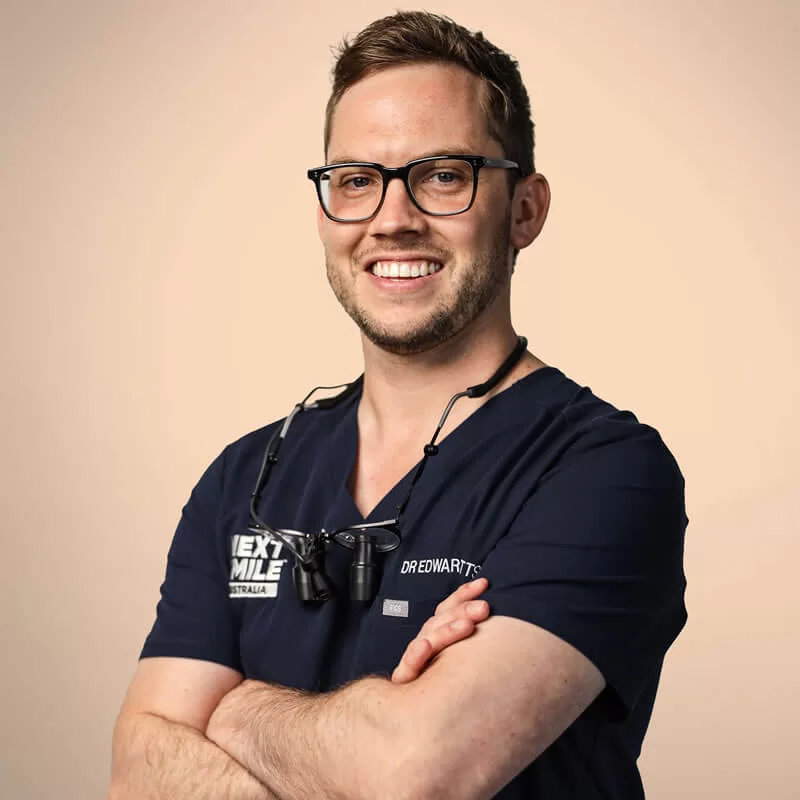 Coming from a family of successful and highly regarded dentists, Dr Edward Pitts had been warmly encouraged into paving a passionate and academic future of his own in the dental industry from a young age. After graduating from the University of Adelaide in 2012, Ed spent 10 years at a Hyde Park clinic where he developed a further interest in implant dentistry.
He has attended implant courses both internationally and here in Australia and has been trained in the Malo protocol by Next Smile partners Dr Larry Benge, Dr Tony Rotondo and Dr Paulo Malo himself. Ed has placed over 400 implants to date.
Ed prides himself in listening to, and understanding the core frustrations and goals of his patients. Every treatment plan is meticulously devised and Ed is thrilled to recommend All-on-4® treatments as a potential stepping stone in transforming people's lives, self-esteem and smiles.
Introducing Dr Evan Jones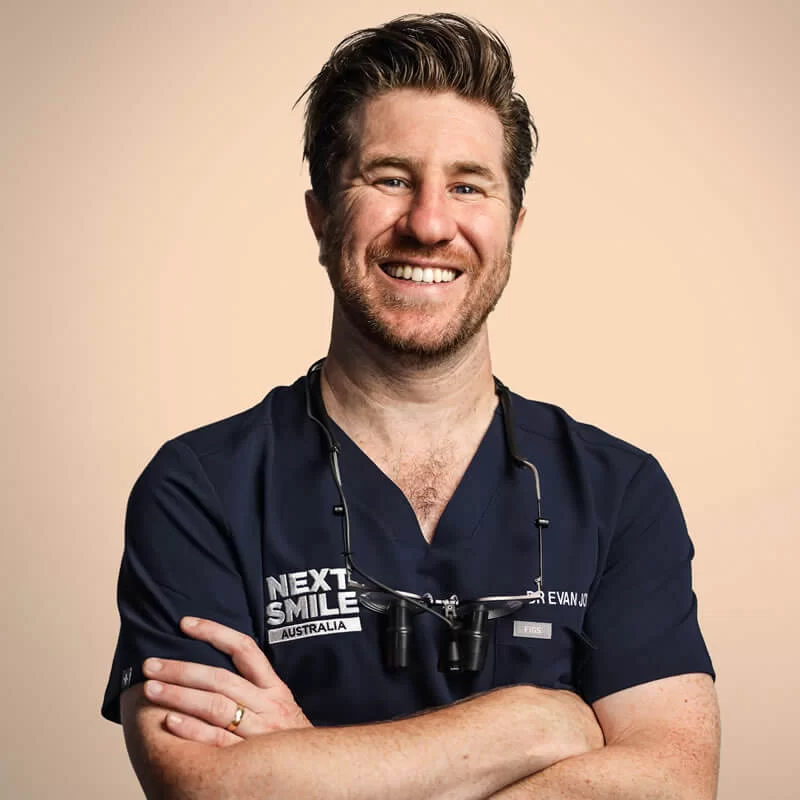 Dr Evan Jones' passion for helping rebuild his patient's smiles with dental implants fuelled his excitement for utilising the revolutionary All-on-4® procedure.
Following graduation with a Bachelor of Dental Surgery from the University of Adelaide he began a career in both metropolitan and rural clinics - quickly developing his oral surgery skills. Dr Jones routinely undertakes implant placement, wisdom tooth removal and difficult dental extractions.
Having then received training and mentoring from Next Smile partners Drs Larry Benge, Brian Johnston and Tony Rotondo as well as Dr Paulo Malo, Dr Jones has fast become one of Adelaide's leading All-on-4® surgeons and he loves how immense an improvement he has brought to many patients lives.
He is a member and South Australian president of the Australia Endodontic Society, a member of the ADA as well as the Australian Osseointegration Society.
Introducing Dr Nicholas Wood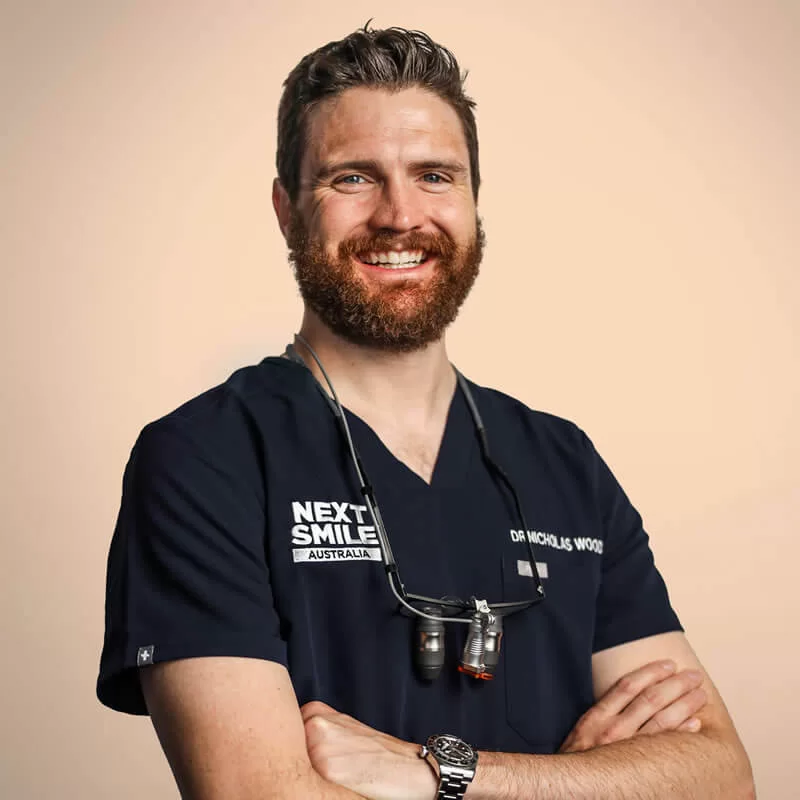 Dr Nicholas Wood is renowned as one of Adelaide's youngest and most successful practice owners, being a key stakeholder in six clinics across South Australia. This unique position has allowed Nick to engage with a broad range of patients and develop a wealth of experience over the last decade.
Nick holds a Bachelor of Dental Surgery degree from the University of Adelaide, with his dedication to excellence leading him to pursue a Masters of Clinical Dentistry in fixed and removable prosthodontics at the prestigious King's College London. His research focuses on All-on-4® implant rehabilitation, meaning Nick is able to apply a gold-standard of knowledge to his approach as one of Adelaide's leading All-on-4® surgeons.
Throughout his career, Nick has undertaken additional training both in Australia and overseas, including mentorship in the Malo approach by Dr Larry Benge, Dr Brian Johnston, Dr Tony Rotondo and Dr Paulo Malo. Having placed hundreds of implants and allowing numerous patients to smile with confidence, Nick's primary focus lies in implant dentistry and cosmetic dentistry.
In his free time, Nick enjoys cycling, skiing, playing guitar, and horse riding with his partner Prue and daughter Phoebe.
Accessing Superannuation
Did you know that you can apply for early release of your superannuation to pay for dental surgery, dental implants, and other required treatments?
Dental surgery funding assistance is something SuperCare has successfully offered for a long time, however, most people are unaware of this initiative. You can apply to access your super to pay for your treatment, your partner's or your children's treatment. You may choose to apply for funding to cover the entire cost of the procedure or part of the cost.
The cost of having any of these dental surgical procedures is now within reach for more Australians, thanks to SuperCare. Fill out the form on the right to enquire with SuperCare.