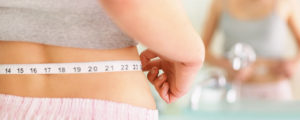 Former taxi driver Leanne Beaumont doesn't need to be told by strangers she's "fat and needs to go on a diet".
At her heaviest, she weighed 254 kilograms and has tried everything to get the weight off – a problem dating back to childhood.
But it's not gluttony that's causing her problems. It's her genes, according to scientific research followed by Melbourne's Austin Health Weight Control Clinic.
The clinic's work with Beaumont and other patients is featured in an excellent three-part documentary, The Obesity Myth, which began on SBS on Monday night.
Fifty years ago, obesity barely existed. Now, 25 per cent of Australians are estimated to be clinically obese, and more than 60 per cent of people are overweight. It costs the government $9 billion a year to treat conditions associated with weight gain.
Obesity expert Professor Joe Proietto runs the clinic and says it's time to treat the obesity itself – not just the health problems it causes.
"More than 100 genes contribute to us being overweight," he says.
"Five have been identified for causing severe obesity, and they all lead to an increased drive to eat."
He argues you can't be obese without a genetic disposition.
Controversially, he's calling for obesity to be treated as an illness, not a lifestyle choice.
The World Health Organisation agrees, but the Australian government doesn't and, as a result, there's limited funding for treatment of the core problem.
Appetite suppressants and carb-free diet
Beaumont cried when she was diagnosed. "Having Joe tell me something was medically wrong with me was like opening something at Christmas, and it was the thing you had been dreaming of getting," she said.
Professor Proietto says the only way to treat this extreme hunger is with appetite suppression medication for life and following a tough carb-free diet. The drugs aren't on the PBS and are subsidised by the hospital.
If that fails, then stomach-reduction surgery is inevitable – with a long wait in the public health system.
Dr Ahmad Aly is in charge of the Bariatric Surgery Unit and explains the change as being the result of a head-on collision between easily available fast foods and genetics.
He says our genes served us well when food was scarce. We expended energy to find it and needed to eat a lot to survive until the next meal. That's not the case now, and the genes generate insatiable hunger for some.
Patients who end up having surgery, he says, have tried everything.
"Yet every time they lose weight, they regain it."
Hussein Hassan is a boxer and has ended up on the operating table for stomach-reduction surgery – just like his parents before him. He's had the problem since childhood, but put on 54 kilograms in one tough year.
The gastric sleeve operation removes 80 per cent of the stomach and what's left won't stretch to accommodate large amounts of food.
One month after surgery, Hassan is losing weight, but struggling with how little he can eat.
"I get one or two bites of a lamb shish and a bit of tabbouleh and I'm full. I'm wishing I could eat what I want."
Beaumont has lost 47 kilograms so far in her aim to get to 99 kilograms and she's confident she will achieve her goal by using the drugs and the diet.
"If I'm realistic, I know it will take me a year. It may take me 13 or 14 months," she said.
"I have to stick with it. I have to do it."
Article originally published on The New Daily
Author: Denise Eriksen